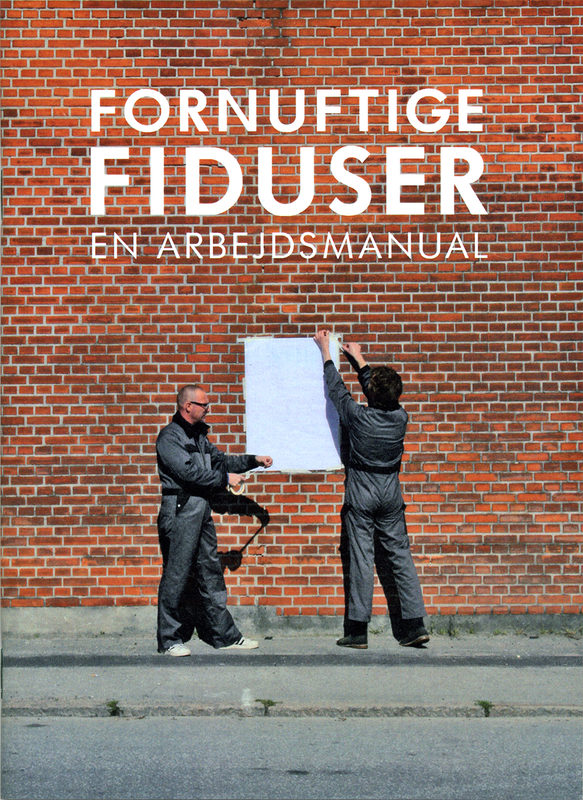 Fornuftige Fiduser
En arbejdsmanual
Press release: "Publishing house dada-invested presents "Fornuftige Fiduser - en arbejdsmanual", which is a joint project of the series "Elefantsæbe (skal tisse)" between the two artists claus ejner and Anders Visti. The book is about the story of two men - Z and E - who empty a puddle of water with a pipette, and then transport the water through a deserted industrial area in a fluxus-like transport module. The purpose of this sense-laden action is revealed if you buy the book, which also contains a lot of sensible (and educational) tricks that make your work life easier! "
The book is supported by the Municipality of Aarhus. 48 color pages, A5 format.
---
dansk:
Pressemeddelelse: "Forlaget dada-invest præsenterer "Fornuftige fiduser - en arbejdsmanual", der er et samarbejdsprojekt i serien Elefantsæbe (skal tisse) mellem de to billedkunstnere claus ejner og anders visti. "Fornuftige fiduser - en arbejdsmanual" er historien om to mænd - Å og Ø - der med en pipette tømmer en vandpyt for vand, for derefter at transportere vandet i et fluksusinspireret transportmodul gennem et øde industriområde. Formålet med denne fornuftstyngede handling afsløres, hvis du køber fornuftige fiduser, der også indeholder en masse fornuftige (og pædagogiske) fiduser, der gør dit arbejdsliv lettere!"
Bogen er støttet af Århus Kommunes Kulturudviklingspulje og er på 48 farvesider i et lille A5 format.
ISBN: 978-87-91798-02-3
By: claus ejner, Anders Visti.
Publishing House: forlaget dada-invest
Type: Booklet
Published: 2009