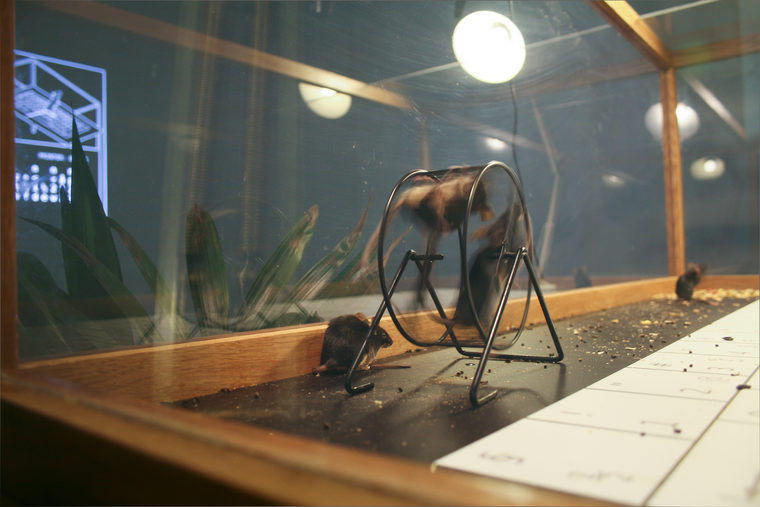 Mørkenet
Solo exhibition. 4th-20th april @ OK Corral, Copenhagen
Information technologist Ted Nelson wrote in 1974: "Man has created the myth of the computer in his own image, or at least one of them: Cold, immaculate, sterile, "scientific", oppressive. Some people flee this image. Others, drawn toward it, have joined the cold-sterile-oppressive cult, and propagate it like a faith. Many are still about this mischief, making people do things rigidly and saying it's the computer's fault.
Still others see computers for what they really are: versatile gizmos which may be turned to any purpose, in any style. And so a wealth of new styles and human purposes are being proposed and tried, each proponent propounding his own dream in his own very personal way …"
The exhibition's principal work is a machine to surf the internet with. This machine is a variation of the personal computer's classic point-and-click user interface, but it is built with the purpose of writing on itself. Out of this generative machine comes an encrypted text, the reading of which is used as a bearing in an expedition across the most common indexations of the web. The symbolic mechanism of the work is used to investigate the meanings that may form in the abstract layers between the metaphorical desktop, the code and the hardware. The focal point is the web's history and archive.
Supported by Statens Kunstråd and Kulturudviklingspuljen, The Municipality of Aarhus.
*
OK Corral is an artist run project space and studio community housed in the Red Warehouse, a former workshop building in Carlsberg City, Copenhagen. The breadth of the OK Corrals interdisciplinary projects range from solo and group exhibitions with national and international artists, open university to cooperation with local and international artist-run spaces.
---
dansk:
Informationsteknologen Ted Nelson skrev i 1974: "Mennesket har skabt myten om computeren i sit eget billede, eller i det mindste ét af dem: Kold, ulastelig, steril, "videnskabelig", undertrykkende. Nogle mennesker flygter fra dette billede. Andre, tiltrukket af det, har sluttet sig til en kold-steril-undertrykkende kult og udbreder billedet som en tro. Mange (indviede) tier om dette fordærv, tvinger mennesker ind i rigide betjeninger og skyder skylden på computeren.
Stadig andre ser computere for hvad de virkelig er: Alsidige dimser, som kan drejes til ethvert formål, enhver form. Således bliver et væld af nye måder og menneskelige formål foreslået og forsøgt - og hver fortaler taler sin egen drøm på sin egen meget personlige måde ... "
Udstillingens hovedværk er en maskine til at surfe på internettet med. Maskinen er en variation over den personlige computers klassiske point-and-click-brugergrænseflade, men den er konstrueret med det formål at kunne skrive på sig selv.
Ud af denne generative maskine kommer en kodet tekst, hvis læsning bruges som pejling i en ekspedition på tværs af de mest typiske indekseringer af nettet. Værkets symbolske mekanisme bruges til at undersøge hvilke betydninger der kan dannes i abstraktionslagene mellem det metaforiske skrivebord, koden og hardwaren. Omdrejningspunktet er internettets historie og arkiv.
Udstillingen er støttet af Statens Kunstfond og Kulturudviklingspuljen, Aarhus Kommune.
*
OK Corral er et kunstnerdrevet projektrum og atelierfællesskab, der har til huse i Rød Lagerbygning, en tidligere værkstedsbygning i Carlsberg Byen, København. Spændvidden i OK Corrals interdisciplinære projekter går fra solo- og gruppeudstillinger med nationale og internationale billedkunstnere, åbent universitet til samarbejde med andre lokale og internationale kunstnerdrevne rum.